WhyGive?
Since Mrs. Ada Swords' legacy gift helped to establish Evenglow's first home in the former Pontiac Hotel in 1958, philanthropy has been at the core of our mission—supporting high-quality, compassionate care for our residents.
Your generous gift enhances the services and resources we offer, and ensures that Evenglow will always be a trusted, comfortable home for seniors for years to come.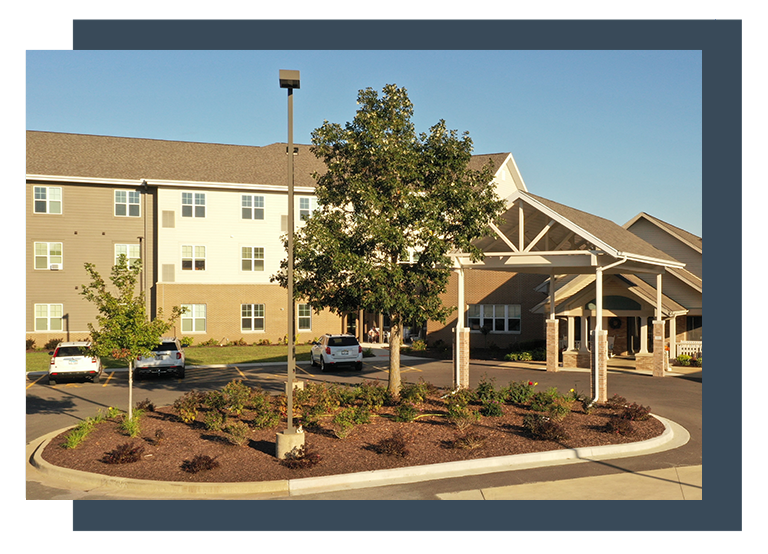 WaysTo Give
Our goal at the Foundation is to connect our philanthropic partners—community members, local organizations, families, and residents like you—with meaningful opportunities to support Evenglow with a gift. We invite you to learn more about the following ways you can get involved:
Help Sustain Our Mission
A gift to our annual fund helps provide benevolent care for residents who outlive their resources, special events, spiritual life opportunities, caregiver scholarships, and Meals on Wheels in the Pontiac community.
Support our Mission Year-Round
A monthly gift is a flexible option that allows you to spread out your donation over time and change or suspend it whenever you need to.
Honor a Loved One
A memorial gift offers a way to honor and remember someone special in your life. We'll include their name in our annual All Saints chapel service program on the first Sunday in November.
Make a Lifetime Impact
A legacy gift enables you to make a lasting impact without touching your income today. You can name Evenglow in your will or trust or donate assets like life insurance or real estate—just to name a few options.
Get Involved
Each year, dedicated volunteers spend more than 1,000 hours, collectively giving our seniors the invaluable gift of companionship. Additional volunteer support is always needed. Please contact Jane, the Director of Life Enrichment at (815) 844-6131.
How do I mail in a gift?
To mail in your gift, make your check payable to Evenglow Senior Living and send it to the following address: Evenglow Legacy Foundation, 215 E Washington St, Pontiac, IL 61764-9903.
How do matching gifts work?
Matching gifts are a fantastic way to maximize the impact of your charitable donations! Many companies sponsor a matching gift program to double or triple their employees' charitable donations to qualified nonprofit organizations. If you or your partner works for a company that matches gifts, your donation to Evenglow Legacy Foundation could be significantly increased by completing a simple form! Simply contact your Human Resources office for more information.
How can I contact Evenglow to discuss my interest in a special gift?
We greatly appreciate your interest in making a special contribution to support our mission. Transformative major gifts provide critical funding for our Residential, Skilled Nursing, and Memory Care facilities—all of which enhance Evenglow's care for our residents and their families.
To discuss your interest in a gift, please don't hesitate to contact Grace Spires, Development Director, at gspires@evenglow.org or call (815) 844-6131.
How do you make a gift as a Church of Religious Group?
Evenglow Legacy Foundation is affiliated with the United Methodist Church's Illinois Great Rivers Conference and is faithfully supported by people with a variety of faith backgrounds.
Making a gift as a Church community or religious group to Evenglow Legacy Foundation is a meaningful way to support our mission. Your assembly's generous support of our ministry gives local seniors security, companionship, and peace of mind—the gift of home!
Please contact Grace Spires, Development Director, at gspires@evenglow.org or (815) 844-6131 for more information.
I cannot express how much I enjoy working here and how devoted the entire team of people are that work here. In many instances, we have taken care of multiple family members and even multiple generations of families over the years.  I am incredibly proud to be a part of this organization.
Evenglow is unique because of the level of care provided by the staff for the residents. They genuinely care about the welfare and outlook of residents—always taking the extra time to listen, wipe away tears, or give a smile.
Quality care can often come with a significant financial burden, and Evenglow's commitment to making it accessible to families like ours is truly commendable. We are immensely grateful for the Secure Living Program at Evenglow for helping our mother.
reach out for
more information
Interested in learning more about Evenglow and how our Life Plan Community can benefit you or a loved one? Fill out the form and a member of our team will follow up shortly.